Hello, and happy Sunday! I was wondering what little bit of fun I would add to this weeks Savory Sunday and I thought "Why not some pictures of my favorite memories?"
These are photos from our Honeymoon that I posted on my other blog;
Captive Creativity
(If you love this blog you'd LOVE that would, please go check it out!)
A warm fall day in Paris
A walk along the water in Venice
Biking in Rome
Sitting on the grass in a square in Berlin
Going on a scooter ride through out Santorini
Savory Sunday....Here's how it will work:
1) Link up to the link below (link as many as you want but try to link something savory if you can)
2) Grab the Savory Sunday button and put it in the post you are sharing
3) Leave a comment after you post
4) I'd love for you to become a follower if you're not but it's not a requirement :)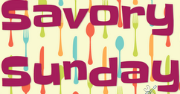 Come back Monday to see which recipes I've picked to feature!